The AQRC Sample Handling Lab serving IMPROVE network has been equipped with a benchtop MTL environmentally controlled weighing chamber that provides compliant environment (Quality Assurance Guidance Document 2.12) for ambient air quality research. Air velocities, temperature, dew point, and airborne particle counts are controlled and below their regulatory thresholds.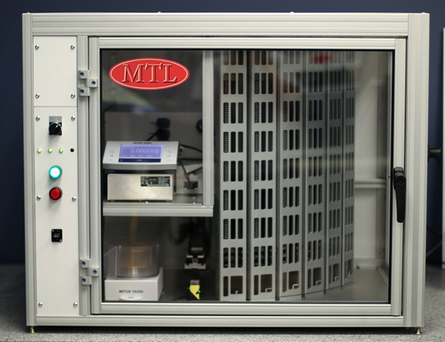 View the EPA's Quality Assurance Guidance Document
System specs:
The system is capable of 30 measurements an hour, with a maximum capacity of 500 filters. Measurements are taken at a resolution of 1 µg (0.001 mg), with a uncertainty of 3 µg (0.003 mg) for 25mm diameter filters.
System Capacity: up to 500 filters

Throughput: up to 30 weighings per hour

Balance Compatibility: 1µg resolution balance (Mettler Toledo XP)

Weighing Repeatability: calibration standard (< =)

1 µg System

Mass Standard: 0.8 µg

Filter: 1.2 µg

Achievable Net Load Uncertainty (k=2; 95% confidence, ISO "Guide to the Expression of Measurement Uncertainty" (GUM))